PLAYER CODE OF CONDUCT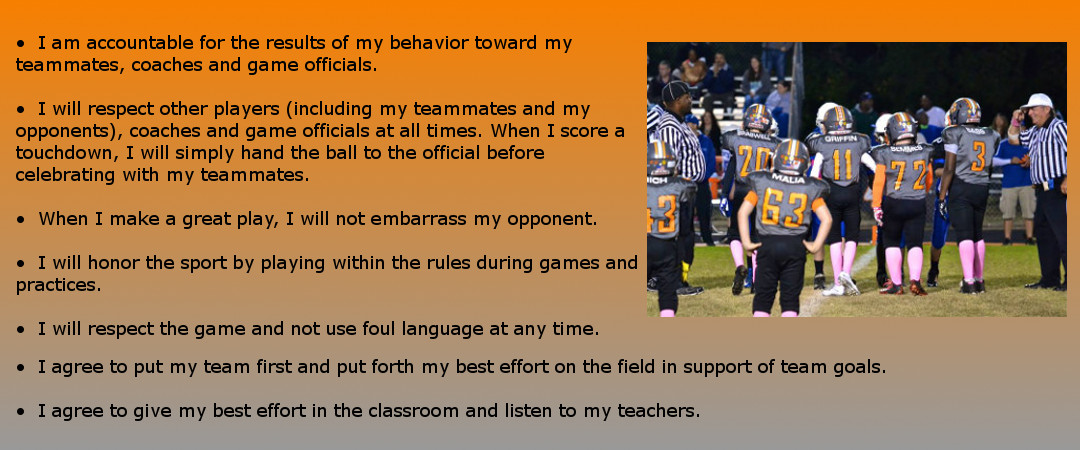 PLAYER DEVELOPMENT
At The Strong Center Football, we strive to teach youth football players the skills they will need to compete and be successful.  We are strong supporters of USA Football's Football Development Model.  Success is not only measured by wins and losses but through player improvement and individual confidence.
Practices
Each practice is designed for a low player to coach ratio giving each player individual instruction.  Practices are broken down into positional groups so coaches and players are able to focus on skills that are applicable to where they play.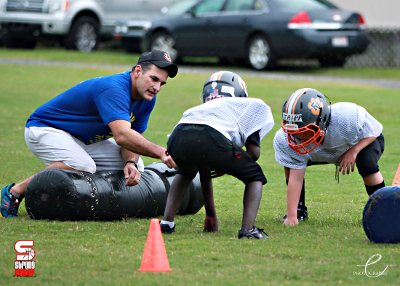 Offensive backfield:  quarterbacks, running backs and receivers working on handoffs, ball security, passing and receiver routes.
Offensive Line:  offensive linemen learning correct stances, proper footwork, and blocking techniques as well as learning to work as a unit on snap counts and blocking assignments.
Defensive backfield:  linebackers, cornerbacks and safeties working together; learning to recognize passing and running situations and how to defend them.
Defensive Line:  defensive linemen will learn proper block destruction techniques such as the rip, swim and bull rush that will help them fill the gaps in the line and stop a running offense.
Special Teams: special team players will work on staying in their running lanes, blocking formations, open field tackling as well as kicking and receiving.
Coaches
The Strong Center coaches are committed to teaching youth players the skills necessary to become successful football players and in turn, successful young men.  Our coaches must meet the following minimum qualifications:
USA Football Youth Tackle Certification
The Strong Center Coach Certification (in classroom)
American Red Cross Coaches First Aid, Health, and Safety for Coaches
American Red Cross CPR and AED (in classroom)
Continuing Education: Coaches are encouraged to attend off-season coaching clinics
Safety
As a certified coach, the coaches proper hydration strategies and concussion recognition are implemented:
Hydration: Coaches will be stressing the importance of hydration before, during and after workouts and games and how being well hydrated benefits performance as well as reducing the risk of heat stress and illness.
Concussion Recognition:  Coaches have been educated on how to recognize the warning signs of concussions and what to do if a concussion is suspected according to the CDC Heads Up initiative.
Heads Up Tackling 
The Strong Center Football and its coaches are fully committed to reducing head and neck injuries by adopting the Heads Up Tackling techniques learned from the Coaches Education Program thru USA Football.
Breakdown:  the foundational starting point for all drills
Buzz:  proper technique to come to balance before making a tackle.
Hit:  correct body posture at moment of impact for safer tackles.
Shoot:  opening the hips to generate power and create an ascending tackle.
Rip:  throwing double uppercuts while grabbing the back of the jersey to secure the tackle.
Our goal at The Strong Center Football is to teach young players to grow their football skills and how to apply the skills to their personal lives, their team and their community.